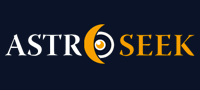 Astro-Seek.com Seek and meet people born on the same date as you ...
Perplexing Manifestation—can't pin point the placement responsible - Discussions, questions
---
Perplexing Manifestation—can't pin point the placement responsible
March 22, 2021 at 18:39 (UT/GMT)

dani_mae1
Perplexing Manifestation—can't pin point the placement responsible
I just can't figure out where this particular manifestation is in my natal chart.

There's a running joke in the family I was just born able to read. But, that's not quite true—I vividly remember my first book I ever read to myself. I was 3 years old, in Memphis Tennessee living in Naval base housing. Shared a room with my little (at the time) infant brother. But, I snuck one of my mom's books—Dean Koontz, House of Thunder (I blame my Hades moon for that choice). And, with my night light and Sesame Street blankets, I read the shit out of that book.

I was put into a gifted program for language arts and all that was compromised of that subject all through my entire schooling experience.

I DO NOT SEE IT IN MY NATAL CHART!

In FACT my 3rd house is intercepted, and my mercury is Conjunct my darn Chiron indicating issues in this realm.

Guys... I think I'm too close to the subject to see where the placement for this manifestation is. It's actually probably right in my face and super simple... but, can someone help guide me in the right direction or take a stab at it?

Posts in topic

dani_mae1
Also I'm going to take a moment to rant that not a damn one of my kids enjoys reading. Oh... the travesty of not being able to see pure joy radiate from their faces when I finally handed down my childhood book collection. Alas, it was not meant to be. Thankfully I have a friend who's daughter loves reading and especially the genres I read growing up. So I gave her all four tubs of my books and got to at least see the joy through her, and it was spectacular.


dani_mae1
Maybe Neptune in the 1st at 29°... it being a big escapism placement, maybe this was it? Books being the ultimate form of escaping not only your reality, but, utilizing other ones. Damnit. That feels like a stretch, but it's all I can come up with at the moment.


ram_goat
It's actually probably right in my face and super simple...
Mercury in the fifth house represents a connection with the house of creativity and children. This position usually means artistic and creative talents and good ability to express thoughts orally. These people have the ability to express themselves dramatically and powerfully and they are talented teachers and actors. They are mentally competitive and require mental activity.
Mercury in Taurus
People with Mercury in earth signs are renowned experts in the field they have chosen to specialise in. They like to think deeply about things, they have good knowledge of things they are interested in and they enjoy the process of learning - as if it was some good food. When they learn something and understand it, they will probably never forget it.
??


ram_goat
»
ram_goat
To children, reading is pitched as a skill to be mastered, as well..
no matter what adult reality may be, reading is presented as a serious business, to children..
I wouldn´t erect any false barriers in my mind between reading and speaking and learning, all are related, all are 5th house activities..


ram_goat
»
dani_mae1
I can remember taking my escapism very seriously as a child..
and for kids today, sadly, the ipad + youtube is the enemy of concentration
and of reading. You really have to watch kids now too, many absurd things are
presented on you tube as entirely plausible and kids lack the judgement to know what is believeable and what is not.


dani_mae1
»
ram_goat
You hit me with a double whammy!
Figured out the placement and said the truest stuff ever:
I can remember taking my escapism very seriously as a child..
Thank you



Rosincvist
»
dani_mae1
There is a two minute "Rotating Maxwell´s Spot" that can be viewed on YOUTUBE that shows where the "big yellow" part of the macula is in the retina; I have it where it causes my eyes to cross! Crossing eyes for stereoscopic reading is sometimes painful; I thought I was supposed to torture myself from second grade to eleventh grade as punishment for being a skinny little hippy!
To validate the test; More normal than average eye-ballers were used to make it look good! I would have never qualified for the official experiment test population!


dani_mae1
»
Rosincvist
Oh love! I grew up the daughter of an eye doctor and worked for him as an adult so I am very empathetic to the pain you are referring to. I truly feel eye pain is a special different pain than the rest of the body. I had HORRIBLE vision and as an adult I corrected it with surgery—twice. Unfortunately now I'm night blind, but I can see enough to function. Many years of having to use glasses (my RX was so "big" I had to utilize special lenses just to find glasses to accommodate the thickness of them, if you were more than one foot from me, I couldn't distinguish your features to tell who you were, not even my own kids). BUT my point is, I would rather go through unmedicated almost dying childbirth (which I have, thank you youngest child ) than the aftermath of a medicated eye surgery again!!!


leorising
I have sun and Pluto in 3rd house ... I always lived in the library, I read many books, Ágatha Christie, the Godfather, 1984, adimirable new world, I read classics before I turned 15years old.
after I entered college, I only started reading accounting books, or books to pass the subjects.
Currently the books that fascinate me are about astrology,
I read a lot.
in your case I would say that it is mercury in Taurus ... a very slow reasoning, very hardheaded



JayJayAstrology
Interesting. Someone recently posted on polyglottery - ability to speak many languages. I know, not exactly the same, but seems similar - a special ability with language.
Here´s what I think is possible:
Sagittarius is good with languages - is good at assimilating from the outside and bringing it within. Jupiter is conjunct Uranus in Sagittarius - which gives heightened intuition, smarts, and knowing without having to work at it. the Pisces-12th house influence gives ready absorption. If you look at the thread on polyglottery, I´ve said something similar to him.
Gemini DES helps - with Venus conjunct it. Venus is the ruler of your Taurus planets - Sun, Mercury, Mars and Chiron - and it is in Gemini. Even if Chiron is conjunct Mercury, it doesn´t mean necessarily there is a problem in your perceptions, ability to think or process verbally. It could be a statement about Taurus or the 5th-6th house. Taurus is steady, stable, stubborn - perhaps it is a comment about having stubborn (Taurus) thoughts (Mercury) about how to be helpful or the importance of certain routines (6th house). I´m just guessing and throwing that out - that it can mean something specific and not something general about your Mercury. The Chiron wound could be about certain Taurus kinds of thoughts that don´t serve you - like thinking too much about security, safety, comfort, wanting life to be simpler - that kind of thing.
A Libra Moon also has the energy exchange thing going - and it can apply to reading a book - a Libra can absorb what it reads very well - and feel a need for the kind of feedback it wants through picking books. Your North Node is in Gemini too - so, let´s not discount NEED - what one needs most, he or she will passionately go there to get it.
I don´t think it matters that Pisces is intercepted in 3rd house. You have no planets there.
_______________________________________________________________
My website:
http://thesoulmustsing.weebly.com
- I do western astrology readings, dream interpretation, and mind-body healing by a donation of your choice - and classes at reasonable rates. Sign up for my newsletter!


Promethean_Soul
Nani in your early age reading skills are in your chart Jupiter and Uranus conjunctions( declination degrees are also close) , between mercury and Venus mutual reception and your third house cusp is aquarius. I started to read something when I was in 3,5 years old and first school I went before I was 5 years old.


Rosincvist
»
ram_goat
Do not under-rate the capacity of child-care workers to turn tutoring into a punishment........my Montessori School Policewoman........I mean Instructor would sit down with a book, then I would point to something in the book.....and then slam! I would be left dazed and confused! Later in Public School first grade the reading circle would begin with the teacher sitting to where she could whip around and hit the buzzer after slamming her copy of "the reader" shut..........in a sense the circumstance had graduated from latex to leather!



Moon calendar
Moon in

Leo
Show calendar
»
Seek users born on
Seek users by nickname